Tuesday, December 14th, 2010 at 11:57 am by Jim
Filed under
Monarch Conservation
|
Comments Off

on Plant Fundraisers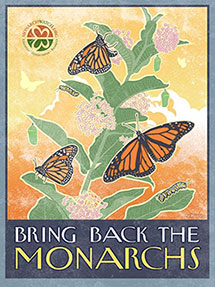 In case you haven't gone through the text on our Bring Back The Monarchs website, one of the things we are trying to facilitate is helping anyone who holds plant fundraisers (nature centers, zoos, native plant societies, schools, etc.) acquire wholesale plants, particularly milkweeds, that can be sold at these events.
We recently received an email from a teacher who wants our help acquiring plants for a spring plant fundraiser that is going to be held at her school. We are contacting nurseries all over the country who grow milkweeds to see what is available. We are careful to identify to the sources of seeds used for plugs to be sure that plugs used for restoration were grown from seeds from the same ecological region.
We need more letters like the one below. Our mission in this project is to help these types of fundraising projects and to promote the planting of milkweeds in both gardens and in areas that can be restored.
If you know of anyone planning a plant fundraiser in 2011, please let them know of our goals and willingness to help them with these projects. Thank You!
Greetings:

I am a teacher at USD 504 Service Valley Charter Academy in Oswego, Kansas.

I attended the spring open house at KU last year and purchased a lot of plants to put in our school registered Monarch Waystation that we created.

I read on the Monarch Watch facebook page about the Bring Back The Monarchs program and our school is very interested in setting up a plant fund raiser for Southeast Kansas. Our school received charter funds 3 years ago. Our charter is built around the use of agriculture to reach our students and this would fit very well into our program. We have a greenhouse on school grounds and would like information on ordering plants wholesale through Monarch Watch.

We have had community individuals stop by the school asking about purchasing milkweed and I am very excited about the possibility of making plants available to our region of the state.

I share the passion of Monarch Watch and this will give my classroom and school a chance to increase awareness in our corner of Kansas.

Theresa