Wednesday, February 17th, 2010 at 1:22 pm by Jim
Filed under
Mexico
|
Comments Off

on Disaster in Mexico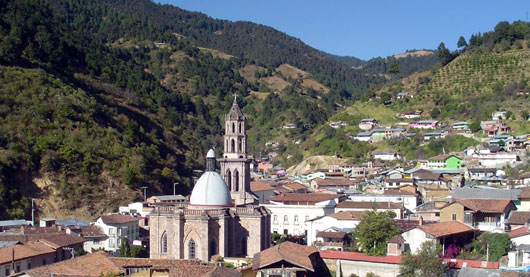 There has been a disaster of extraordinary proportions in the heart of the monarch overwintering area. Unprecedented rainfall from 31 January – 4 February led to flooding and landslides that resulted in the loss of many lives and the near destruction of the towns of Angangueo and Ocampo, the two municipalities that serve as hubs for those visiting the monarch colonies at Sierra Chincua and El Rosario. The community of El Rosario was also hit hard with a major landslide that buried more than a dozen residents and destroyed bridges and homes. The consequences of this disaster will be felt for years by some and for a lifetime by others. Angangueo will never be the same – the one we remember before the flooding is gone.
The monarch colonies were also strongly impacted by the rainfall but the monarch population will recover – how long this recovery will take is a question that can't be answered at this time.
Journey North Relief Effort
Journey North has stepped forward to coordinate relief efforts for the people displaced by the destruction in Angangueo and Ocampo. You can visit the Journey North site to see their response to conditions in Mexico. The key paragraph is as follows:
"Send Financial Support:? Journey North is coordinating a drive to send financial support to local, community-based, non-profit organizations who work in the monarch region. If you would like to support the work of these organizations, please send a check to:

Journey North
?P.O. Box 263
Norwich, VT 05055

Your contributions will be forwarded to organizations who are experienced in sustainable development projects and can work strategically and efficiently in the local communities."
News from El Rosario
The infrastructure at El Rosario was badly damaged. A landslide in this area is reported to have killed 13 people. Many roads and bridges in the area were destroyed in the floods. Crews are working long hours to restore the road to the community and the monarch sanctuary. There are many rumors about the conditions of the community and the monarch colony but reliable information is lacking.
Public Access to Monarch Sanctuaries
As of this writing (17 February) the following monarch sanctuaries are open to the public: Sierra Chincua (access available only from the north and not from Angangueo), Cerro Pelon, and Herrada (the size of the surviving colony is small). El Rosario is not open at this time.
Additional information concerning this devastating event will be posted shortly.