---
Asclepias verticillata, (Whorled milkweed)
General Description
Due to its narrow leaves and stems, this species blends in with grasses and is easily overlooked when not in bloom. Among the milkweeds, the whorled milkweed is one of the few clone forming species. Some clones have hundreds, perhaps even thousands of ramets. In some grasslands and prairies, the biomass of A. verticillata probably exceeds that of all other milkweeds. Although this species is seldom found in cultivated or grazed landscapes, it does colonize ditches and road-banks as shown in the last image below. Because this species is one of the last milkweeds to senesce as the season progresses, it is a common late season host plant for monarch larvae. It is one of the most broadly distributed of all milkweeds in the United States.
---
Form/Growth
Distribution: AL, AR, AZ, CT, DC, DE, FL, GA, IA, IL, IN, KS, KY, LA, MA (Threatened), MD, MI, MN, MO, MS, MT, NC, ND, NE, NJ, NM, NY, OH, OK, PA, RI (Special Concern), SC, SD, TN, TX, VA, VT, WI, WV, WY
Canada: MB, ON, SK
Flower: 15 +/- flowers per umbel. Pedicels to the umbel tends to be purplish and 2/5 in (9 mm) long. 5 pedals. Color is greenish-white with purple tinge. Hoods and horns are white approximately 1/32 – 1/16 in (1-2mm) long. Corolla reflexes back to reveal the hoods. Horns protrude from the hoods.
Foliage: Herbaceous. Stands erect at +/- 23 3/5 in (60 cm). Glabrous. Thin stem and leaves. Leaf attachment is sessile. Leaf arrangement is whorled.
Habitat: Sandy, clayey, or rocky calcareous soils of prairies, badlands, flood plains, & open woods.
Height: 11 4/5 – 35 ½ in (30 – 90 cm).
Leaves: Shape is linear. Leaves grouped in whorls of 3-7. 3/5 – 3 in (1 ½ -8cm) long and 1/5 – 4/5 in (½ -1 ½ cm) wide.
Toxicity: Moderate
---
Reproductive
Blossoming Season: May to September
Life span: NA
Propagation: By seed.
Pods: Very long and narrow. Approximately 3 1/5 – 6 1/3 in (8-16 cm) long and 2/5 – 1 3/5 in (1-4 cm) wide.
Seed Color: Brown
---
Environment and Growth Requirements
Maintenance: Low.
Overhead Conditions: Open spaces, lots of sunlight.
Precipitation: 5-70 inches (13-177 cm) annually.
Roots: From rhizomes, cloning species.
Soil Texture: Medium to fine.
Temperature: Grows in areas with minimum temperatures of –40 to –30 Fahrenheit (-40 to -34 Celsius).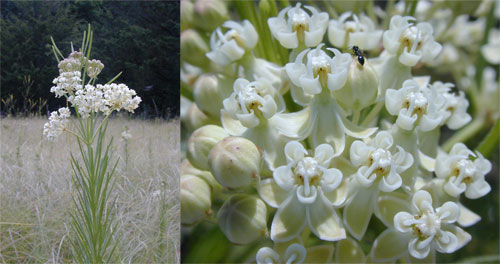 Work Cited: missouriplants.com, plants.usda.gov, Arborday.org, Eduplace.com, prairiemoon.com
Photos: Monarch Watch Archive