---
Asclepias subulata, (Rush Milkweed)
General Description
Mature plants of this species are striking in appearance with many leafless stems rising from a single root crown with a density similar to that of horsetails. Small leaves are produced after periods of rainfall. With or without rainfall, these plants usually bear a few umbels and then pendulous, narrow pods.
---
Form/Growth
Distribution: AZ, CA, NV
Flower: Umbels stand erect with 10 +/- flowers per umbel located at top part of stem. Flower is glabrous, approximately ½ inch (1.5 cm) long by ¼ inch (.5 cm) wide. Corolla, hoods, and horns are cream, white, or yellow color.  Corolla folds back to expose hoods and horns.
Foliage: Leaves are indistinct (small) and tend to be maintained only when moisture is adequate. Photosynthesis appears to be accomplished via greenish-white tissues that cover numerous erect stems.  Leaf arrangement is opposite. Grows as numerous stems off a common root crown.  Color is a grayish green.
Habitat: Desert areas on dry slopes and plains.
Growth habit: Non-clonal, non-invasive. Slow to become established under natural conditions.
Height: 24 – 48 in (61-122 cm).
Leaves: Remains leafless until after rainfalls.  Leave shape is linear, 1-2 in (2 ½-5 cm) long by up to 1/8 in (3 cm) wide.
Roots: Taproot.
Toxicity: Low.
---
Reproductive
Blossoming Season: April – December.
Life span: NA.
Propagation: By seed.
Pods: Narrow, smooth, glabrous, downwardly directed and 2-4 in (5-10 cm) long when mature.
Seed Color: Brown.
---
Environment and Growth Requirements
Maintenance: Low.
Overhead Conditions: Shade tolerant under desert conditions.
Precipitation: Less than 8 in to 16 in (20-40 cm) annually.
Soil Texture: Sandy, rocky and dry.
Temperature: Can tolerate a minimum temperature of 10 to 20 Fahrenheit (-12 to -6 Celsius).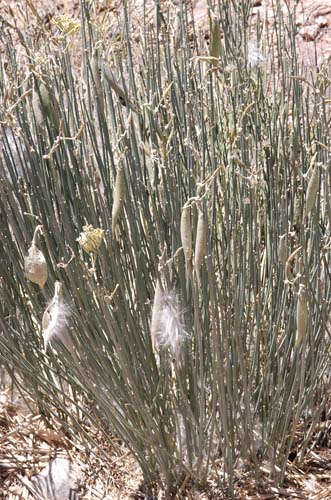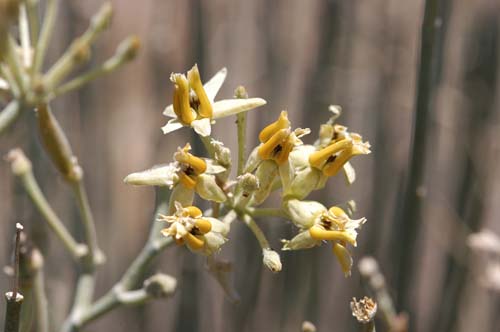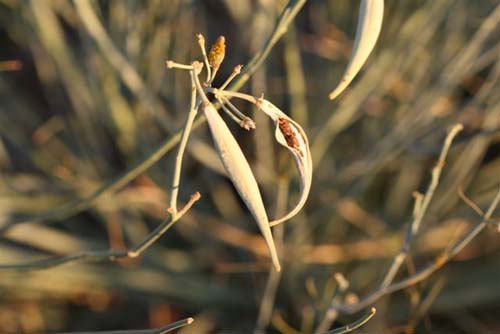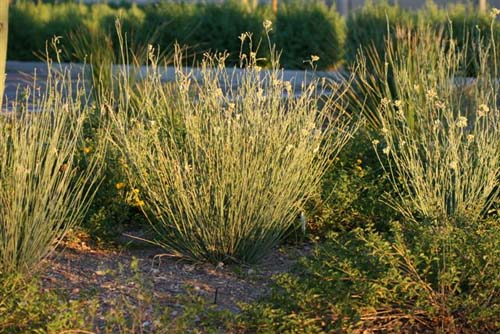 Work Cited: wildflower.org, Plants.usda.gov, Wikipedia.org, Davesgarden.com, Arborday.org, Eduplace.com, ag.arizona.edu
Photos: Gary Stell, Morris Family