---
Asclepias speciosa, (Showy Milkweed)
General Description
This species is closely related with the common milkweed, A. syriaca, with which it sometimes hybridizes at the eastern limits of its distribution. These species are similar in appearance and growth form (tall and robust), but can be distinguished by the layer of fine white hairs on speciosa and flowers that look like small crowns. The fibers from this plant were used by Native Americans to make ropes, nets and other items. Unlike A. syriaca, speciosa does not form large clones.
---
Form/Growth
Distribution: AZ, CA, CO, IA (Threatened), ID, IL, KS, MO, MN, MT, ND, NE, NM, NV, OK, OR, SD, TX, UT, WA, WI, WY
Canada: AB, BC, MB, SK
Flower: Several erect umbels with 10 +/- flowers are presented at the top of the stems.  Color varies from pink, to red, and purple. Horns are near the base of the hoods, but the hoods grow to be much taller than the horns.  Horns do protrude through the hoods. The corolla flexes backwards after blooming.
Foliage: Blue-green color, course, and hairy.  Leaf arrangement is opposite and attachment is petiolate. Leaf petioles are 1/8-3/8 in (4-10mm) long. Stems stand erect.
Growth Period: Spring and Summer
Habitat: Found in habitats ranging from sunny and dry to moist in savannahs, prairies, road-sides, old fields, and meadows.
Height: Generally 1 ½ – 3 ft (½ – 1 m) but can reach 6 ft ( 1.8 m) under favorable conditions.
Leaves: Oval shaped, 3-8 in (7 ½ – 20 cm) long and 1-4 in (2 ½-10 cm) wide.
Roots: Taproot, depths to18 inches.
Toxicity: Low.  One of the least toxic milkweeds.
---
Reproductive
Blossoming Season: May – September.
Life span: Long.
Propagation: By seed. Spread rate is moderate.
Pods: 3-4 in (7 ½-10 cm) long. Erect, with hair covering entire pod.
Seed Color: Blackish.
---
Environment and Growth Requirements
Maintenance: Low.
Overhead Conditions: Not shade tolerant.  Must be in open spaces.
Precipitation: 15-40 in (38-102 cm) annually.
Soil Texture: Can grow in course, medium, and fine soils.
Temperature: Can tolerate temperatures as low as –40 to –30 Fahrenheit (-40 to -35 Celsius).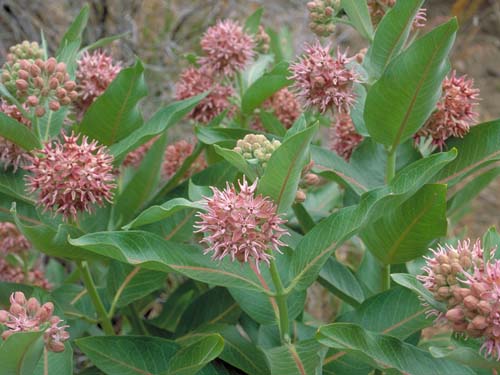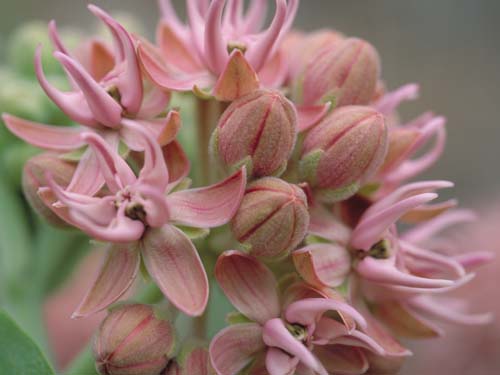 Work Cited: plants.usda.gov, Arborday.org, Eduplace.com, critterzone.com
Photos: Bobby Gendron