---
Asclepias perennis, (Aquatic Milkweed)
General Description
This species can be easily identified before the flowers open because the tips of the corollas are pink creating a large pink spot at the apex of an unopened flower. Leaves are relatively short and narrow. Grows in areas with soils that are continuously wet.
---
Form/Growth
Distribution: AL, AR, FL, GA, IL, IN, KY, LA, MO, MS, SC, TN, TX
Flower: Glabrous. Umbels erect with 25 +/- flowers presented as a flat panicle. Tips of the corolla can sometimes be tinged with pink. Corollas, hoods, and horns are usually white or light pink. Horns protrude through the hoods. Corolla reflexes backward. Each flower is approximately 1/8-3/16 in (3-4 mm) long and 1/16 in (2 mm) wide.
Foliage: Glabrous. Stem is a dark purplish-green color in contrast to the evergreen color of the leaves. Stands erect to ascending. Leaf arrangement is opposite. Leaf attachment is petiolate with short petioles approximately 2/3 in (1 1/2 cm) long.  3+/- umbels to a stem.
Habitat: Hydrated soils, floodplains, water way margins, marshes, cypress swamps, ditches, and wet lands.
Height: 18-24 in (46-61 cm).
Leaves: Green, linear to a narrow elliptic, 3-5 in (8-13 cm) long by 1/2-1 1/2 in (1-4 cm) wide. Leaf vein and underside are a duller green.
Roots: Taproot.
Toxicity: NA
---
Reproductive
Blossoming Season: May – September.
Propagation: By seeds.
Pods: Pendulous. Smooth, hairless, long 1 ½ -2 ½ in (4 – 6 cm) , and narrow 1/2 -1 in (1-2 ½ cm) wide.
Seed Color: NA
---
Environment and Growth Requirements
Maintenance: Medium.
Overhead Conditions: Needs full sun light.
Precipitation: 30-60 in (76-152 cm) annually.
Soil Texture: Moist soil.
Temperature: Can tolerate a minimum temperature of  -10 to 0 Fahrenheit (-23 o -17 Celsius).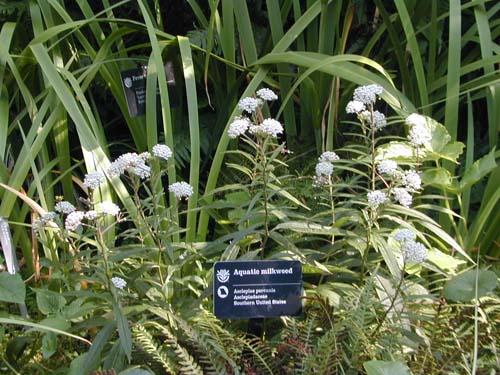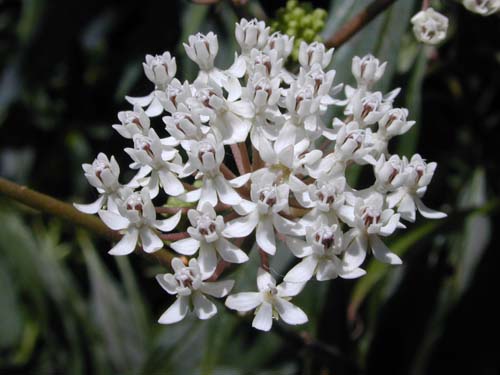 Work Cited: discoverlife.org, Plants.usda.gov, davesgarden.com, wildflower.org, Arborday.org, Eduplace.com, monarchsacrossga.org
Photos: Monarch Watch Archive