---
Asclepias fascicularis, (Mexican Whorled, Narrowleaf Milkweed)
General Description
This species has a thin stem and long narrow leaves.  Several erect umbels branch off at the top of the stems. Flowers are small, erect and grow in clusters of 10 +/-. Seed pods are long, narrow, and smooth. The plant often grows in patches.
---
Form/Growth
Distribution: CA, ID, NV, OR, UT, WA
Mexico: Baja California
Flower: Color is pale pink, purple, white, to greenish.  Umbels stand erect. Horns protrude through the hoods. After blooming the corolla extends down under the hoods.  Corolla color is white to pinkish in contrast to the hoods and horns being white. Several umbels are born on each stem.  20+/- flowers per umbel. Flowers are 3/16 in (4-5 mm). Pedicels are 3/16 – 7/16 in (6-10 mm).
Foliage: Color is a pale green. Tends to grow in dense patches.  Leaf attachment is petiolate and arrangement is scattered or whorled.
Habitat: Dry climates, plains, hill, valleys, roadsides, and disturbed grounds.
Height: 24-36 in (61-91 ½ cm).
Leaves: Narrow to lanceolate, up to 6 in (15 cm) in length and ¾ in (2 cm) in width.
Roots: Taproot.
Toxicity: Low.
---
Reproductive
Blossoming Season: June – September.
Life span: NA
Propagation: By seed.
Pods: Narrow, thin, smooth, and long. Form in July and can be picked late July. Length is (6-9 cm).
Seed Color: Light Brown, 1/8 – 1/3 in (3-8 mm) long.
---
Environment and Growth Requirements
Maintenance: Low.
Overhead Conditions: Not shade tolerant, needs full sun.
Precipitation: Drought tolerant. Less than 10 in to 40 in (25-102 cm) annually.
Soil Texture: Dry to moist soils. Grows well in clay soils and on moderate slopes.
Temperature: Can tolerate a minimum temperature of -10 to 0 Fahrenheit (-23 to -18 Celsius).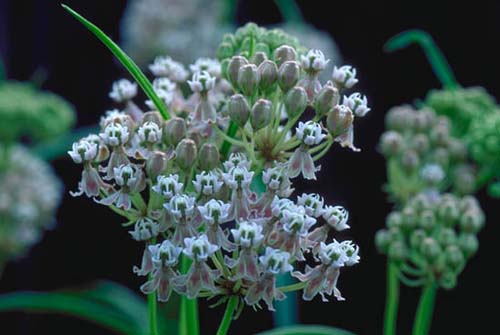 Work Cited: davesgarden.com, esrp.csustan.edu, wildflower.org, Plants.usda.gov, Arborday.org, Eduplace.com, calflora.org, An Illustrated Flora of the Pacific States: Geraniaceae to Scrophulariaceae Le Roy Abrams and Roxana Stinchfield Ferris
Photos: Bobby Gendron