Monarch Watch is an education, conservation, and research program based at the University of Kansas that focuses on the monarch butterfly, its habitat, and its spectacular fall migration. Monarch Watch was founded in 1992 by Dr. Orley "Chip" Taylor and the monarch tagging program was launched in the fall of that year.
Mission Statement: Monarch Watch strives to provide the public with information about the biology of monarch butterflies, their spectacular migration, and how to use monarchs to further science education in primary and secondary schools. We engage in research on monarch migration biology and monarch population dynamics to better understand how to conserve the monarch migration. We also promote protection of monarch habitats throughout North America.
Vision Statement: In recognition of the rapid loss of habitats and resources needed by monarch butterflies in the United States, Canada, and Mexico, it is clear that the preservation of the monarch migration will require stewardship by the governments and private citizens of all three countries. We all must work together to create, conserve, and protect monarch habitats. Sustaining monarch habitats will have the effect of protecting vital pollinators and other wildlife.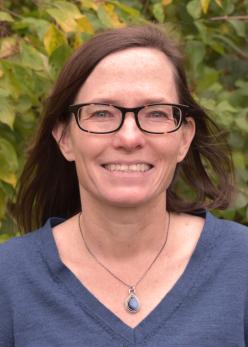 Kristen A. Baum [kbaum@ku.edu]
Director of Monarch Watch; Senior Scientist, Kansas Biological Survey & Center for Ecological Research; Professor of Ecology & Evolutionary Biology, University of Kansas, Lawrence, KS.

Prior to assuming the role of Monarch Watch Director in 2023, Baum was a professor in the Dept. of Integrative Biology and associate dean for research at the College of Arts and Sciences at Oklahoma State University.

Baum has worked with monarchs and other pollinators in the Great Plains for more than 25 years. Her monarch research focuses on the effects of land use and management practices on the distribution and abundance of monarchs, milkweeds, and monarch-parasite interactions. She also has a long-term project focusing on the wing size, body weight, sex ratio, and OE infection status of fall migrants in Oklahoma. Baum has served on numerous state, regional and national working groups to support conservation efforts for monarchs and other pollinators.

---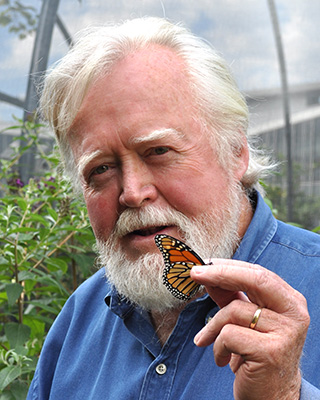 Orley R. "Chip" Taylor [chip@ku.edu]
Founder and Director Emeritus of Monarch Watch; Professor Emeritus of Ecology & Evolutionary Biology, University of Kansas, Lawrence, KS.

Trained as an insect ecologist, Taylor has published papers on species assemblages, hybridization, reproductive biology, population dynamics and plant demographics and pollination. Starting in 1974, Taylor established research sites and directed students studying Neotropical African honey bees (killer bees) in French Guiana, Venezuela, and Mexico.

In 1992, Taylor founded Monarch Watch, an outreach program focused on education, research and conservation relative to monarch butterflies. Since then, Monarch Watch has enlisted the help of volunteers to tag monarchs during the fall migration. This program has produced many new insights into the dynamics of the monarch migration. In 2005 Monarch Watch created the Monarch Waystation program, in recognition that habitats for monarchs are declining at a rate of 6,000 acres a day in the United States. The goal of this program is to inspire the public, schools and others to create habitats for monarch butterflies and to assist Monarch Watch in educating the public about the decline in resources for monarchs, pollinators and all wildlife that share the same habitats.

In the fall of 2022, Taylor announced he would be stepping away from day-to-day operations of the program to focus on the completion of several projects.

---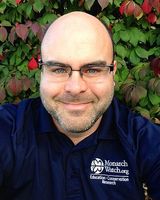 Jim Lovett [jlovett@ku.edu]
Monarch Watch Research Assistant

Jim earned bachelor's degrees in Biology at the University of Kansas and began working for Monarch Watch in 1995. He is primarily responsible for managing Monarch Watch's technology (hardware, software, services, and data) and also provides support for all ongoing projects and program activities via financial reporting, fundraising, and communication with the public and media outlets.

---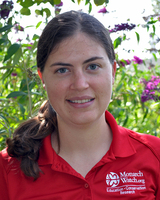 Ann Ryan [annryan@ku.edu]
Monarch Watch Research Assistant

Ann received a bachelor's degree in Biology from the University of Kansas and began working for Monarch Watch in 2006. She is the office manager for the program, coordinates the monarch tagging research program, hires and supervises all student workers, manages the insect laboratory and plants, and serves as our outreach coordinator.
---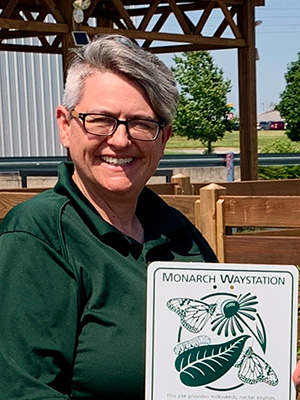 Dena Podrebarac [denap@ku.edu]
Monarch Watch Milkweed Grant Coordinator

After earning her bachelorís and masterís degrees in Biology from Emporia State University, Dena began her professional career as a summer Naturalist for the Kansas Department of Wildlife and Parks for two years and as adjunct faculty for Highland Community College. She then worked in the Public Education Department at the KU Natural History Museum for many years. After taking a break to be a stay-home mom, she returned to KU to work at Monarch Watch in February of 2016. Denaís main duty is administering grants which award large quantities of free milkweed plants for habitat restoration projects.
We're in the business of sharing knowledge, so it's important that you know how to contact us and access information. There are several ways to do this:

Monarch Watch Shop
Visit the Monarch Watch Shop (shop.monarchwatch.org) online to order tagging materials, rearing materials, books, posters, tshirts, and more!

If you have questions about ordering or about an order you have already placed, please contact the Monarch Watch Shop at mwshop@monarchwatch.org or 800-780-9986

Offline orders may be mailed, phoned, or faxed to the Monarch Watch Shop at:

Monarch Watch Shop
c/o Nonprofit Business Solutions
2701 Centerville Rd.
Wilmington, DE 19808
toll-free phone: 800-780-9986
toll-free fax: 877-687-4878
Milkweed Market
Visit our Milkweed Market (shop.milkweedmarket.org) online to order flats of milkweed plugs for gardens or restoration projects.

Any questions about your Milkweed Market order may be directed to us at monarch@ku.edu or 785-864-4441 and additional information is available at monarchwatch.org/milkweed/market/
For general questions and comments, please use the following to contact Monarch Watch:
Mailing/shipping address:
Monarch Watch
University of Kansas
2021 Constant Ave
Lawrence, KS 66047
USA

Telephone: 785-864-4441

Email: monarch@ku.edu

Online: monarchwatch.org
If you enjoy the various educational, conservation, and research programs Monarch Watch offers throughout the year, please consider making a donation today - it's quick, easy, secure, and fully tax-deductible. You can even set up a recurring gift (monthly or annually) if you'd like. We rely on contributions from Monarch Watchers just like you to keep the program going - thank you for your continued support!

If you would rather mail in a donation or have questions, please visit Giving in Support of Monarch Watch.