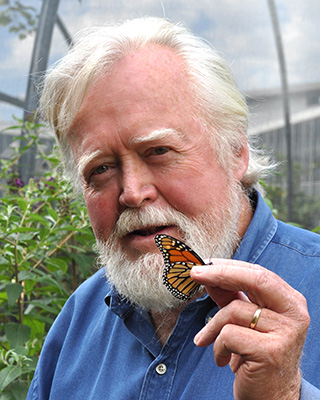 Orley R. "Chip" Taylor [chip@ku.edu]
Founder and Director of Monarch Watch; Professor Department of Ecology and Evolutionary Biology, University of Kansas, Lawrence, KS.

Trained as an insect ecologist, Chip Taylor has published papers on species assemblages, hybridization, reproductive biology, population dynamics and plant demographics and pollination. Starting in 1974, Chip Taylor established research sites and directed students studying Neotropical African honey bees (killer bees) in French Guiana, Venezuela, and Mexico.

In 1992, Taylor founded Monarch Watch, an outreach program focused on education, research and conservation relative to monarch butterflies. Since then, Monarch Watch has enlisted the help of volunteers to tag monarchs during the fall migration. This program has produced many new insights into the dynamics of the monarch migration. In 2005 Monarch Watch created the Monarch Waystation program, in recognition that habitats for monarchs are declining at a rate of 6,000 acres a day in the United States. The goal of this program is to inspire the public, schools and others to create habitats for monarch butterflies and to assist Monarch Watch in educating the public about the decline in resources for monarchs, pollinators and all wildlife that share the same habitats.

---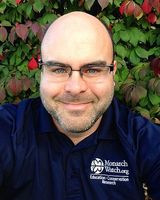 Jim Lovett [jlovett@ku.edu]
Monarch Watch Research Assistant

Jim received bachelor's degrees in Biology from the University of Kansas and began working for Monarch Watch in 1995. He is responsible for creating and managing all technology related materials, handling the financial reporting for the program, running fundraising campaigns and working with public media outlets to facilitate outreach and promotional activities.

---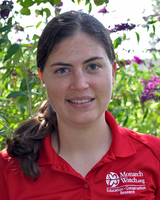 Ann Ryan [annryan@ku.edu]
Monarch Watch Research Assistant

Ann received a bachelor's degree in Biology from the University of Kansas and began working for Monarch Watch in 2006. She is the office manager for the program, coordinates the monarch tagging research program, hires and supervises all student workers, manages the insect laboratory and plants, and serves as our outreach coordinator.
---
Angie Babbit [milkweed@monarchwatch.org]
Monarch Watch Communications Coordinator

Angie received her master's degree in biology from Emporia State University, and her bachelor's in environmental studies from the University of Kansas. She began working for Monarch Watch in 2014 and handles much of the communications with the public about monarchs and milkweed. She is also a mother, photographer, printmaker and advocate for the tall grass prairie ecosystem.
---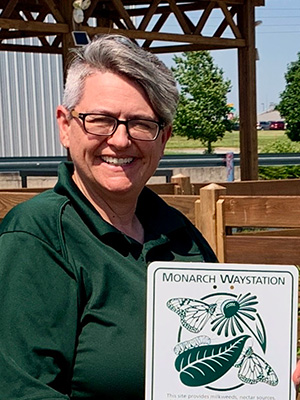 Dena Podrebarac [denap@ku.edu]
Monarch Watch Milkweed Grant Coordinator

After earning her bachelorís and masterís degrees in Biology from Emporia State University, Dena began her professional career as a summer Naturalist for the Kansas Department of Wildlife and Parks for two years and as adjunct faculty for Highland Community College. She then worked in the Public Education Department at the KU Natural History Museum for many years. After taking a break to be a stay-home mom, she returned to KU to work at Monarch Watch in February of 2016. Denaís main duty is administering grants which award large quantities of free milkweed plants for habitat restoration projects.
---
Matt Tucker [matt.tucker@ku.edu]
Monarch Watch Education Coordinator

Matt earned a degree in Parks and Recreation Management. After working a variety of natural resource related jobs in Montana, he returned to school for his masters in special education. Matt was a public school teacher for seven years in Alaska, and began working for Monarch Watch in 2016. Matt will be implementing a Waystation Network, with the goal of connecting and supporting educational and nonprofit institutions who have received milkweed plants from Monarch Watch. He will be developing programs to successfully implement more effective gardens and learning opportunities for youth.