Counting down...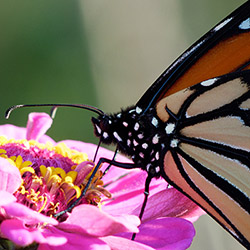 MONARCH WATCH FALL OPEN HOUSE
Saturday, 14 September 2019 - 9a to 2p
Foley Hall, KU West Campus, Lawrence, KS
Join us at our Fall Open House at Foley Hall (KU West Campus) to celebrate the arrival of migrating monarchs coming from the north. This free event is designed to please children and adults alike.
At the Open House you can learn about creating Monarch Waystations and see the magnificent butterfly and pollinator garden created and maintained by the Douglas County Master Gardeners. Weather permitting, you will see an abundance of butterflies and numerous other small but important pollinators. On a good day over 20 species of butterflies visit the garden. Bring your cameras. It is well worth a visit.
As usual, we will provide refreshments, lots of show & tell (including a honey bee observation hive and some "Oh, my!" insects you may have never seen before), tours of our gardens and lab space, hands-on activities, games, videos, monarch tagging demonstrations, and, of course, monarch caterpillars, pupae, and butterflies!
We'd love to see you on Saturday so mark your calendars! If you can't make it in person, be sure to check us out online.