Monday, August 8th, 2022 at 11:47 am by Jim Lovett
Filed under
General
|
Comments Off

on Share photos, videos, stories and more with Monarch Watch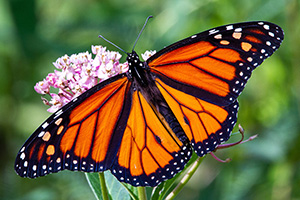 We are always looking for monarch photos, videos, stories and more for use on our website, on our social media accounts, in our publications, and as a part of other promotional and educational items we distribute online and offline to promote monarch conservation and Monarch Watch.
To help us celebrate 30 years of Monarch Watch, we'd like you to send us your favorites! We will display some of them at the events and share them via our social media accounts and on our website as well. For photos, we prefer the original image resolution and file size to give us the greatest flexibility in using them. Please only submit your own materials.
There are several ways you can send us your favorite files and all of the methods below are accessible via monarchwatch.org/share
1. Main submission form at monarchwatch.org/share/submit
This is the form we prefer you use as it is the most comprehensive and allows you to provide complete information.
2. Quick uploader for photos and videos at monarchwatch.org/share/photos
Note that this method does not allow you to include contact or other information.
3. If you have issues using either of the tools above you may also email your submission to us at share@monarchwatch.org but please include everything we ask for on the main form by copying/pasting the information below into your email message (or use it as a guide).
Name:
Email address:
Do you want to be credited when we use your materials, when feasible?
Name as you would like it to appear in credit:
Description of materials or other comments (for photos and videos this should include an approximate date of capture and location):
Please note that by sharing materials with Monarch Watch you agree to the statements provided at monarchwatch.org/share regarding their origin and use.
Thank you for your interest in sharing with us!