Friday, April 10th, 2009 at 11:30 am by Jim Lovett
Filed under
amazon.com
,
Monarch Migration
|
No Comments »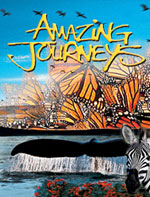 Originally presented in IMAX theaters, this 1999 film explores several animal migrations in beautiful cinematic detail. The first seven minutes or so are devoted to the spectacular monarch migration – our favorite part of the film!
This 40-minute video is currently available for viewing online at
If you are unable to view it online or if you'd just like a copy of your own, the DVD is available via Amazon at:
Remember, if you use product links provided here or visit our Amazon.com Portal before making your online purchases, Monarch Watch will earn a small portion of the sale.
Enjoy the video!