Counting down...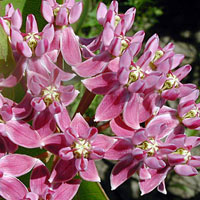 SPRING OPEN HOUSE & PLANT FUNDRAISER
Saturday, 9 May 2015 - 8a to 2p
A big THANK YOU goes out to everyone that helped make this year's spring event a huge success!
We do have some plants still available (see the updated plant list below) - if you were unable to make it here on Saturday or have decided you need more plants, please feel free to stop by Monarch Watch from 4-6pm this week and we'll hook you up. Again, a modest contribution of $3 for annuals and $4 for perennials is suggested.
Ready to start a butterfly garden or improve the one you have? If so, come visit us at Monarch Watch for our annual Spring Open House & Plant Fundraiser.
We will have more than 5,000 butterfly plants (both annuals and perennials), including seedlings of eleven milkweed varieties. These plants are ideal for starting butterfly gardens or adding to established gardens. Monarch numbers have been declining and we need to plant milkweeds to sustain the monarch migration. Modest contributions are suggested for the plants. A list of available plants appears below.
Refreshments will be provided. There will be games for the children and they can make "seed balls" containing seeds of milkweeds and other butterfly plants that can be used to create habits for monarchs and other butterflies. They can also watch the queen bee lay eggs in our honeybee observation hive, see scary insects and spiders, or watch videos. All are welcome to tour our garden and lab space. We will have live exhibits and demonstrations, and, of course, monarch butterflies!
We'd love to see you on Saturday so mark your calendars! If you can't make it in person, be sure to check us out online - we plan to post photos and broadcast some LIVE video throughout the day.