Welcome to Monarch Watch's Milkweed Market!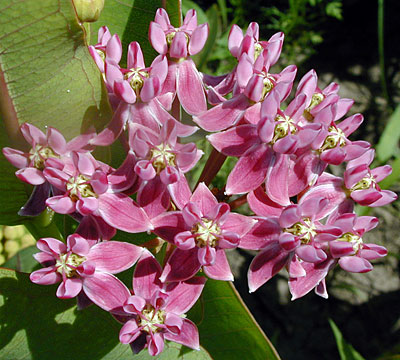 SAVE THE MONARCH MIGRATION - ONE BUTTERFLY AT A TIME: PLANT MILKWEED
Update: May 4, 2016: We're happy to announce our new online shop for the Milkweed Market. Please take a moment to read through the information below then visit the shop at shop.milkweedmarket.org
Looking for free milkweeds for large-scale restoration projects instead? Complete details are available here.
Monarch butterfly numbers have been at an all time low for the last two overwintering seasons, and many pollinators are declining as well. The widespread planting of herbicide tolerant crops, intensive farming, and the ethanol mandate has led to a rapid loss of habitat. Monarchs and pollinators need our help. By planting milkweeds – the host plants for monarch caterpillars – and nectar plants for adult monarchs and pollinators, you can help maintain the monarch migration and sustain the pollinators whose pollinating services maintain our ecosystems.
In 2013, working with one nursery, we distributed >21,000 plugs. We partnered with two nurseries in 2014 and were able to distribute 59,000 plugs. This past season we worked with 4 nurseries and distributed over 109,000 pesticide-free milkweed plants! We have even bigger goals for the coming year and expect to ship more than 200,000 milkweed plugs. Our plan is to have plugs available for most regions of the country.
Our milkweed plugs come in unmixed flats of 32 plants. The plugs cost $74/flat, shipping included. Shipping is via UPS ground.
Please use the zip-code search function available in the Milkweed Market Shop to determine the plants we are supplying to your area.
We only ship plants to the ecoregion from which their seeds originated and are contracting with native plant nurseries to increase our impact nationwide. We continue to seek new partners.
All communications involving orders and shipping should be directed to Monarch Watch via support.milkweedmarket.org
If we don't have milkweeds available for your area, please take advantage of the Monarch Watch Milkweed Market Vendor listing. More than 200 vendors that sell native milkweeds in various regions of the country are currently listed.
In order to keep many species in the Milkweed Market available, we rely on local seed collections from across the country. We have created a Milkweed Regions & Seed Needs section of our Bring Back the Monarchs program. We really need your help to keep this program going! We welcome any questions, comments, or suggestions regarding the new Monarch Watch Milkweed Market. Please feel free to contact us anytime.
R. G. Bailey, Ecoregions of the United States, USDA Forest Service, revised 1994.
Species list with common names:
Asclepias amplexicaulis (Clasping milkweed)
Asclepias asperula (Antelope Horn Milkweed, Spider Milkweed)
Asclepias exaltata (Poke Milkweed)
Asclepias fasicularis (Mexican Whorled Milkweed, Narrowleaf Milkweed)
Asclepias hirtella (Green Milkweed)
Asclepias incarnata (Swamp Milkweed)
Asclepias oenotheroides (Sidecluster Milkweed, Zizotes Milkweed)
Asclepias perennis (Aquatic milkweed)
Asclepias speciosa (Showy milkweed)
Asclepias syriaca (Common Milkweed)
Asclepias sullivantii (Sullivant's Milkweed, Prairie Milkweed)
Asclepias tuberosa (Butterfly Milkweed)
Asclepias variegata (White milkweed)
Asclepias verticillata (Whorled milkweed)
Asclepias viridiflora (Green Comet Milkweed)
Asclepias viridis (Green Antelopehorn Milkweed)
Images of most of these species can be found at monarchwatch.org/bring-back-the-monarchs/milkweed/milkweed-profiles