During the first two weeks of July, I had the opportunity to visit and work with a number of people in the region near Angangeuo, Mexico. My reasons for this visit were many - to learn about the people who live in the area where the Monarch butterflies roost during the winter months which would enable me to learn more about the region itself, and to help out with whatever needed to be done. I was there as part of a pilot group (four of us in all) for the Monarch Teacher Network to see what we could learn and teach to the local people about the Monarch butterfly.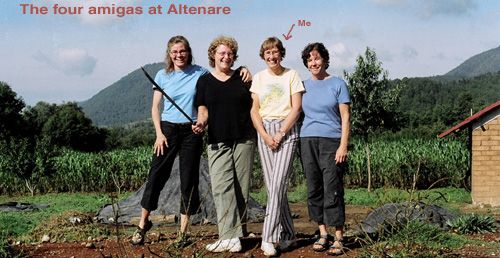 While there, we stayed with a group known as Altenare - a group of wonderful people dedicated to improving the life of local farmers. Their goal is to teach good, sustainable farming practices (crops and animals), healthy food preparation, using herbs as food and as medicine, and creating their homes and wood burning stoves from adobe bricks which can be made using their own land and their own hands. The group, Altenare, planned our daiy activities. We built adobe wood burning stoves, made adobe bricks, cleared areas for gardens - in other words, we got down and dirty.
The most memorable day of this awesome adventure was the day we visited Sierra Chincua, a Monarch over-wintering area, but an area that is being illegally logged. We had been invited by the local people of the area - people to whom and for whom this forest belongs - to visit in the off-season to see the area without the butterflies in order to see how amazing it truly is. While there, I had the amazing fortune to speak with and listen to Francisco, a true gentle man of the woods.
At one point, as he was talking, I realized that I was speaking with a man who had been present when members of Fred Urquhart's group held up a photo and asked this question "Have you seen this butterfly?" I was face-to-face with a moment in scientific history, and just thinking of it now makes me go all goose-bumpy! The local people, at the time, thought the Monarch bred in their trees and that the butterflies disappeared in March and the Monarch's children grew up in the trees and appeared in November. They called the butterflies Palomas (which means dove), and because they appeared around All Saints Day (or Day of the Dead), the butterflies have a large significance to this day - the souls of the dead coming to wish them a good day. But what truly touched my heart the most was Francisco and his dedication, along with the other members of his small community, to this forest. Translated roughly, he said to me "This is God's gift. It is here to be looked after, and that is my duty to God. I am here to keep the animals, trees and plants safe." Francisco cannot read or write, but he has a true understanding and knowledge of his forest which became very apparent as we walked and walked. What a memory!
Brenda